Wholesale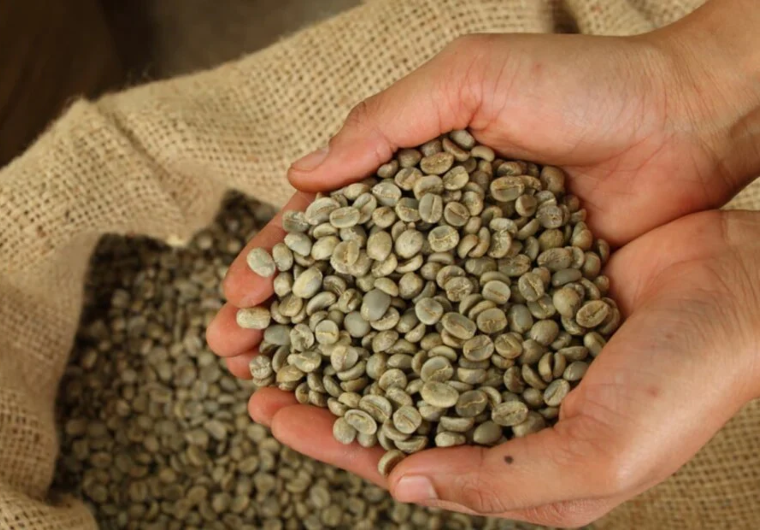 Precision in Coffee Roasting
The Roasting Revolution: More Than Bulk Buy Coffee Beans!
Green Bean Coffee gives you access to the best bulk coffee beans across Australia, but that's not all we do.
We can also help you create an unforgettable cafe experience for your customers.
Our exclusive benchtop commercial roaster is the point of difference that sets our customers apart from the competition. Pair your new roaster with our range of award-winning blends and Single Origin beans to start roasting your own coffee.
Huge Variety

10 awards winning blends and over 100 Single Origin beans

Fairtrade & Organic

Wide range of beans that carry the Rainforest Alliance and Fairtrade Seal

Increase Profits

We saved our customers over $1,000,000 on their coffee bills last year

Easy To Use

Our roaster is simple to use and requires only basic training
Cafe Roaster
Why Roast Your Own Bulk Buy Coffee Beans?
Food Theatre

The aroma and experience of seeing coffee roasted in-house sets our customers apart from the crowd

Always Fresh

Roast as much as you want, when you want. Try small batches of single origin without the risk

Economical

Green Beans are around half the cost of roasted coffee. A roasting machine pays for itself in no time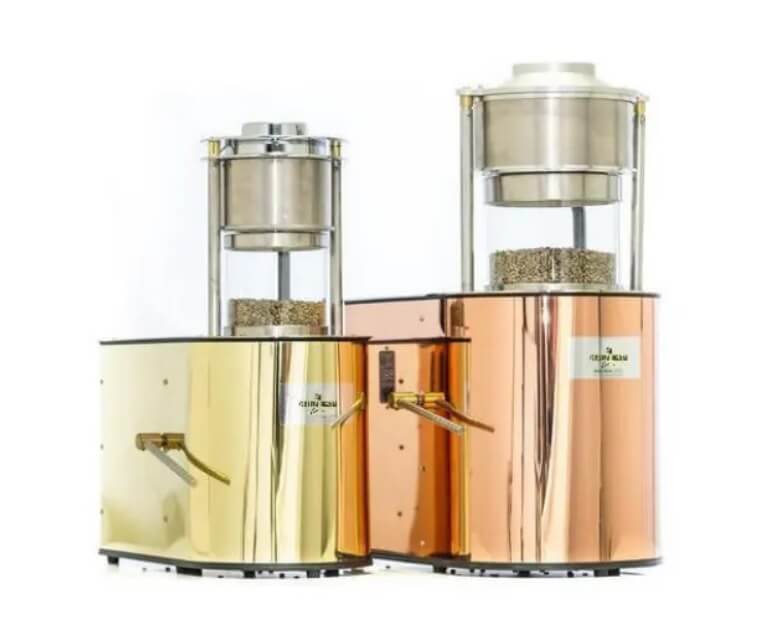 Wholesale Coffee Beans and The Green Bean Roaster
Pair our bulk-buy coffee beans with The Green Bean Roaster for a match made in heaven!
Handcrafted in the USA, our roasters come in two sizes. The 600g roaster can roast up to 12kg in 8 hours, while the 1.2kg roaster makes up to 26kg in the same amount of .
The Green Bean roaster was designed with the idea of truly fresh coffee being made available cup after cup. The roaster enables the operator to know that the coffee they are serving is at optimum freshness all of the time, whether it be for wet or dry sales. Our roasters (both domestic and café) are "Fluid Bed" roasters, meaning you are exclusively using hot air to roast your beans. This gentle yet effective process prevents scorching and provides a crisper, cleaner flavour for every roast.
As a Green Bean master roaster, you will be able to offer Fresh Roasted Beans in take-home packs to your customers, further expanding sales and differentiating yourself from the competition in your area.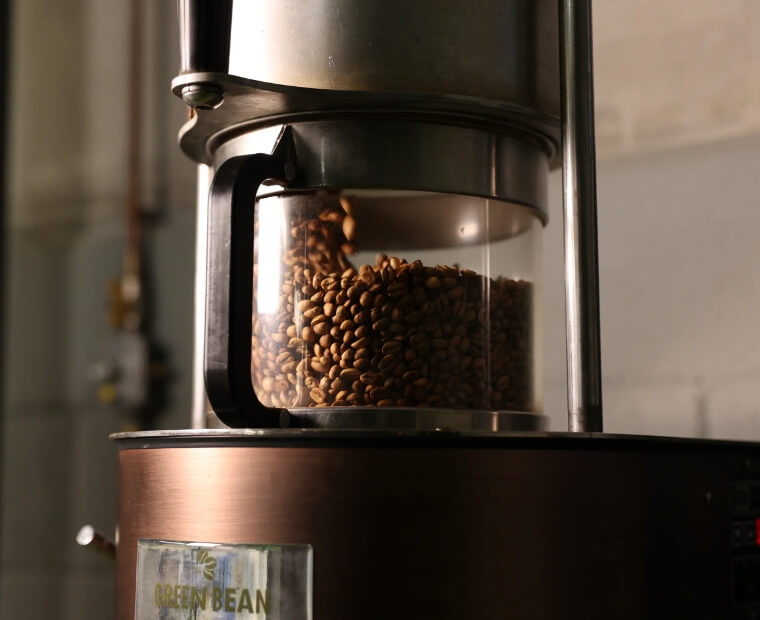 Roast Your Own Coffee Beans in Minutes!
The Green Bean Roaster is designed to be operated 100% by everyday employees.
After a few minutes of training, employees will spend about 30 seconds per roast during those little lulls throughout the day. Everyone loves doing the roasting.
It's a fun, methodical part of the shift that gives instant results and gratification from the pride they find in roasting what they serve.
The roaster is fully programable and inclusive of Bluetooth connectivity. And for the aficionados out there, the built-in ADR profiling software gives greater control and all the information in real time.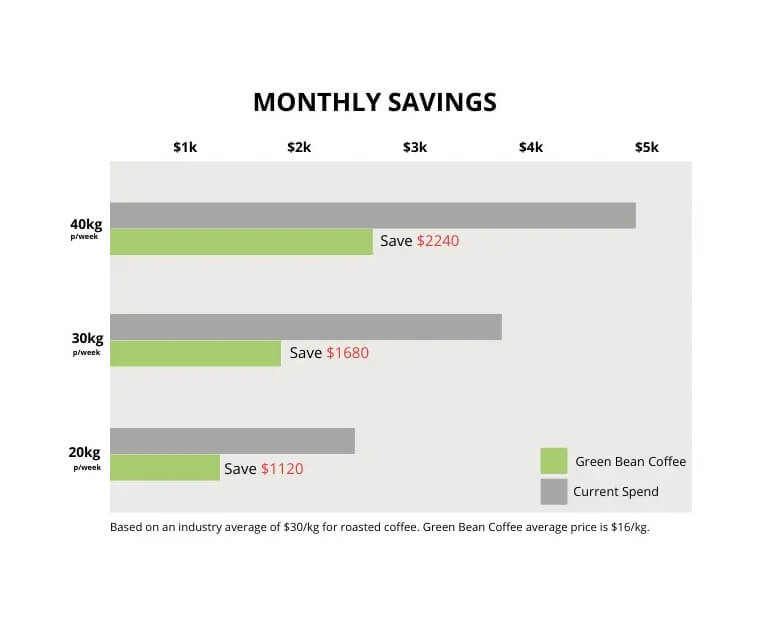 Switch and Save with Bulk Coffee Beans and the Green Bean Roaster
Our customers collectively saved over $1,000,000 on their coffee bills last year!
Most coffee companies sell roasted beans for an average of $26 - $40 per kilo. By roasting your own bulk buy green coffee beans, your costs will almost halve.
If you use 30kg per week, you could save up to $20k per year!
Our Coffee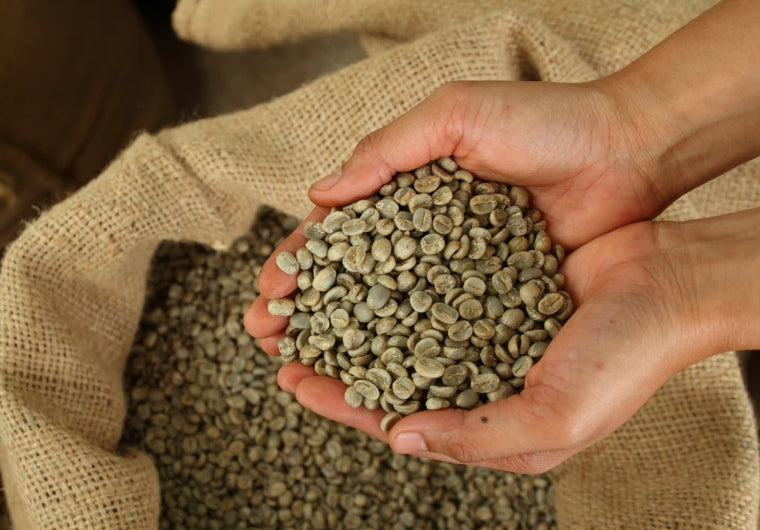 Buy Coffee Beans Wholesale and Enjoy Award Winning Blends
We proudly produce 10 house blends, with a full range of flavour profiles. Coffee isn't a one-size-fits-all product, and our diverse range of coffee beans for wholesale customers provides something for everyone.
Our most popular blend is our Number 6 the winner at the 2017, 2018 & 2019 Sydney Royal Show. A premium blend of coffees made from 100% Arabica beans; the Number 6 is an exotic blend from the highest grown estate. Another popular blend is our Hawkesbury blend, which was awarded a bronze prize in the Espresso category at the Melbourne 2022 Australian International Coffee Awards!
Our blends are available unroasted or roasted to your specifications.
Single Origin Coffee Beans Available Wholesale in Australia
Green Bean Coffee carries an exceptional range of more than 120 Single Origin Coffees from around the globe. We specialise in Fairtrade and Organic beans and are passionate about ensuring that our suppliers, customers and partners all win.
When you buy coffee beans wholesale from Green Bean Coffee, you get access to small batch sizes in all our beans, meaning you can offer your customers access to a rotation of freshly roasted coffee from around the world.
Our hospitality partners enjoy offering specialty Single Origin coffee for limited runs alongside dining promotions. Experience has told us that aligning the food and beverage offerings keeps customers coming back again and again.
Buy coffee beans wholesale in Australia for superior beans from around the world. Our regions include Africa, India, Asia, South America, Australasia, and more.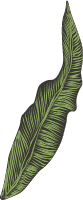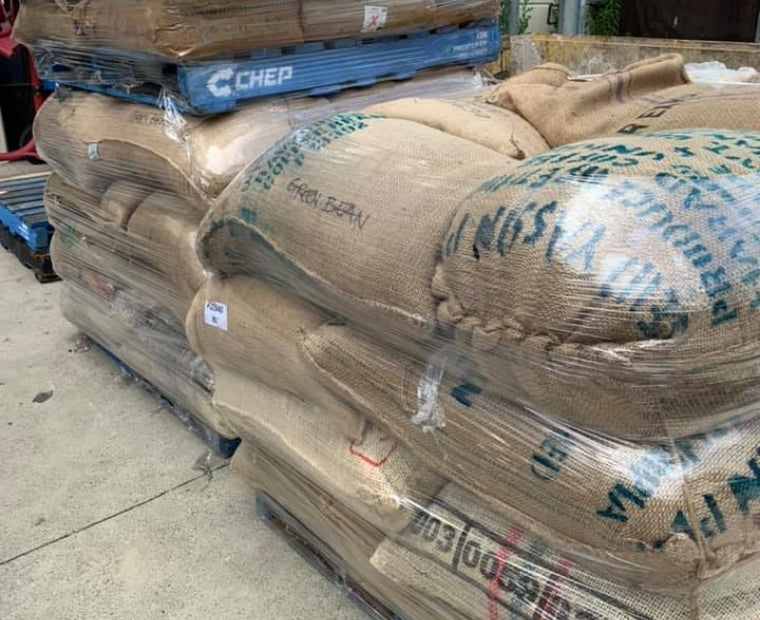 Want to Learn More About Our Bulk Buy Coffee Beans?
Green Bean Coffee offers an impressive variety of coffee beans from every growing region in the world. From quality blends to Rainforest Alliance coffee to decaffeinated coffee beans, you can find it all here. To discover the perfect beans to pair with our coffee roasters, view the top 10 green beans in our range.
Looking to Order Roasted Coffee Beans Wholesale?
Whether you want to supplement your in-house roasting or you're just looking to use roasted beans, you can find the flavours you're craving from Green Bean Coffee. Fill your café with coffee beans that are roasted to your specifications. View the top 10 roasted beans in our range.
Choose The Green Bean Roaster and the Best Bulk Coffee Beans in Australia
Green Bean Coffee is Australia's full-service wholesale coffee destination, offering everything you need to elevate your coffee experience, from in-house roasters to the best wholesale coffee beans in Australia.
Contact us today to find out more and join the roasting revolution!
Three Bears Kitchen

Cakebiz Narellan

Love the Yirgachaffe
Explore all
Prompt Delivery

Freshness Guaranteed

Personalised Service

Established in 2000